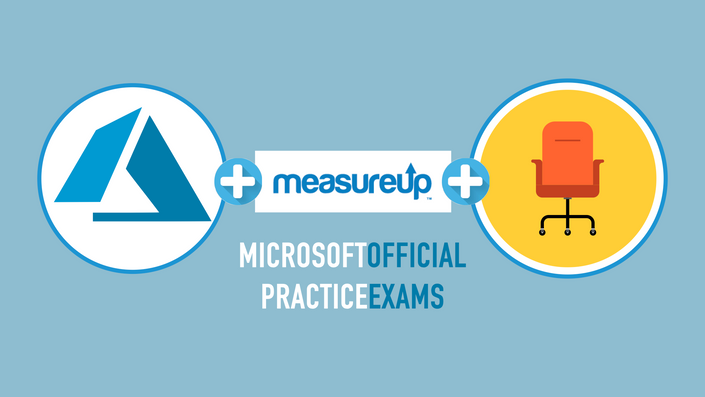 Microsoft Official Practice Exams
*Official* Practice Tests by MeasureUp! ANY exam. 180 days. 50% off regular price.
It doesn't get any easier than this:
Access any MeasureUp Practice Exam for 180 days
Use code UD900 at checkout for 50% off savings
Through our LAB partnership, students can purchase the Official practice tests designed by Microsoft and MeasureUp to help students prepare for the Microsoft Certification exams.

(These are the same tests offered by Microsoft/MeasureUp that retail $99, for only 30 days of access. LAB access codes get you 180 days of sweet, sweet exam prep.)
- NOTE: vouchers are emailed manually. It may take 12hrs to receive the email with your code -
* You MUST 'opt in' to emails to receive your test code *

Here's an example of the study material you get:
The AZ-900 exam practice exam is designed for candidates looking to demonstrate foundational level knowledge of Azure cloud services. Unlike most Microsoft certification exams, AZ-900 is intended for non-technical candidates, such as those involved in selling or purchasing cloud based solutions and services or who have some involvement with cloud based solutions and services.
This AZ-900 practice test

contains 188 questions

and covers the following objectives:
Understand Cloud Concepts - 24
Understand Core Azure Services - 52
Understand Security, Privacy, Compliance and Trust - 67
Understand Azure Pricing and Support - 45
This test includes references to the following media:
Microsoft.com
MSDN
Microsoft TechNet
Web resource
Why has LAB Learning partnered with MeasureUp?
We believe that quality test content is extremely important part of your exam investment, and the LAB team wants you to have the best chance of exam success.
By partnering, we're providing the opportunity to bring you the best possible practice exam content at an affordable price. MeasureUp works closely with certification providers to understand the exam objectives, participate in beta testing and take the exam themselves before creating new practice tests. These tests have earned the prestigious credential of Microsoft Certified Practice Test Provider.

Online performance-based simulations give hands on work environment experience
Questions are similar to exam questions so you test your knowledge of exam objectives
Detailed explanations for both correct and distractor answers reinforce the material
Study Mode covers all objectives ensuring topics are covered
Certification Mode (timed) prepares students for exam taking conditions
Instant, drill-down score reports tell you exactly the areas to focus on
Course Curriculum
Instructions for Using Your MeasureUp Voucher
Available in days
days after you enroll
Frequently Asked Questions
How long will I have access to the exam?
You get *180 days* of practice exam access from the day you register your code (which will be sent by email).
Can I use this for *any* practice exam offered by MeasureUp?
Yes. Each voucher is a unique code that can be used to register for a single practice exam. However, the code can be used for *any* exam in the MeasureUp library.
When do I get the voucher? And then what?
PLEASE NOTE that vouchers are processed manually, so the turnaround is not instant. It may take 12 hours for you to receive the email containing your code. Beyond that, we've included instructions in the first (and only) lecture of this "course" about how to register the voucher code.
What about refunds?
Because this is an exam voucher rather than a course, we allow for a 7-day period for you to change your mind instead of our standard 30-day policy. However, once you register the voucher code with MeasureUp, the voucher becomes non-refundable. MeasureUp has free demos of their product if you want to get a feel for what these practice exams are like, but if we could have done it any better, we would have.